News & Events
Humanities, Arts, and Social Sciences Division
Presents:
Hennebach Lectures
---
Young's Environmental Symposium
Social Perspectives on the Flint, Michigan Water Crisis
OCTOBER 18 @ 6:30 PM - OCTOBER 19 @ 9:00 PM
The Department of Civil and Environmental Engineering, along with the Hennebach Program in the Humanities and former Mines President John Trefny, is organizing the Young's Environmental Symposium on October 18-19.
The symposium opens Wednesday, October 18, with a screening of "Noah: Rising from the Ashes in Flint" at 6:30 p.m. in the Green Center's Metals Hall. The film tells the story of Noah Patton, a young Flint resident, who is working to positively shape the future of his community. The film will be followed by a panel discussion with filmmaker Dana Romanoff; Pastor Robert McCathern, a local Flint religious leader; Margaret Kato, the executive director of Genesee County Habitat for Humanity in Flint; and Marc Edwards, Thursday's keynote speaker. Thursday's keynote will start at 7 p.m.
Presidents, the Constitution, and Engineers:
Shaping Earth, Energy, and Environment
Rich Levine, J.D.
Monday, September 18th 5:00-6:00 pm
BBW250
The Constitutional embodiment of "liberty" unleashed the creative and productive forces of engineers, miners, and entrepreneurs to transform the land and economic might of the United States. The American Revolution was, at foundation, a revolution in the relationship of democratic institutions to property - most especially land and its use. From the philosophical concepts of Jefferson and Washington, to the practical experience of H. Hoover and J. Carter, engineering, mining, and earth sciences have been core components of US political thought and action.
"It is a great profession … the fascination of watching a figment of the imagination emerge through the aid of science to plan on paper. Then it moves to realization in stone or metal or energy. Then it brings jobs and homes to men. Then it elevates the standards of living and adds to the comforts of life. That is the engineer's high privilege." (President H. Hoover)
Adjunct Professor Rich Levine brings you US history through the lens of Earth science, engineers, and miners: come hear about founding fathers, presidents, and The Constitution from this unique perspective.
Scientists, Engineers, and Politics:
Perspectives from China and Germany
Liu Yongmou (Renmin University of China)
Alfred Nordmann (Technical University Darmstadt)
Tuesday, Sept 5, 3:30-5:30
BH241
One of the most contentious issues in America today is the relationship between scientific and technological expertise and political power. On one side are those who think scientific knowledge should fundamentally inform politics and technical expertise should guide governmental action. On another are those who maintain that scientists and engineers are just another interest group whose influence in public affairs should be limited. The presentations by two leading science policy scholars from China and Germany will offer new perspectives on such debates by considering the roles played by technoscientific experts in two very different political regimes.
---
"Indivisible"
Photography as Activism and Poetry of Witness: A Dialogue Between Forms
Opening Night April 27th
6:00pm-8:00pm
Foothills Art Center 809 15th Street, Golden, Colorado
The Hennebach Photography as Activism class collaborates with the Advanced Poetry Workshop for a dialogue between the camera and the page. This show is a call and response to the current threats that endanger the ideals of America.
"Celebration of National Poetry Month"
a celebration of National Poetry Month with a reading and Q and A with
David J. Daniels
Wednesday, April 26
5:30pm-6:30pm
Boettcher Room, The Arthur Lakes library
David J. Daniels is an editor, essayist, teacher, and poet who writes often about the cultural ramifications of new and old testament dogma, about human sexuality and innocence, and the elegiac treatment of survivors and victims alike (many of them friends) of the AIDS crisis. Daniels graduate thesis investigated the culture of hate, especially those focused efforts by current and past US hate groups, and his scholarship and research on formal poetry is seen clearly in the many formal and created forms he deploys in his own poetry. David J. Daniels is the author of Clean (Four Way Books), winner of the Four Way Books Intro Prize, and finalist for the Kate Tufts Award and Lambda Literary Award for Poetry. He is also the author of two chapbooks, Breakfast in the Suburbs (Seven Kitchens Press), and Indecency (Seven Kitchen Press). He teaches composition in the University Writing Program at the University of Denver and has received fellowships or scholarships from Kenyon Review, Bread Loaf Writers Conference, and The Stadler Center at Bucknell University.
"Visual Bridges"
Dr. Carrie Roy
Wednesday, March 22nd
4:00pm-6:00pm
Student Center Ballroom C
Synopsis:
While you may be doing phenomenal research, moats of discipline-specific vocabularies or rivers of jargon could be isolating your great idea—preventing it from reaching broader audiences. This talk examines the role visual bridges (in the form of art, infographics and data visualizations) can play in connecting with audiences and collaborators outside your field.
About the Speaker:
Dr. Carrie Roy grew up on a cattle ranch in southeast North Dakota and received her B.A. from Harvard in Visual and Environmental Studies, where she focused on sculpture and photography. The ethnographic interests explored in her undergraduate work led her to pursue advanced degrees in the humanities – culminating in post-doctoral research in the Living Environments Laboratory and work coordinating a digital humanities initiative at the University of Wisconsin, Madison. She continues to create art bridging the capabilities of computers and the creative touch of humans and conduct research exploring computational approaches to humanities data.
"Ocean Legacy: Inspiring Marine Conservation in the Ross Sea, Antarctica and Beyond"
John Weller - Safina Center Fellow
Wednesday, March 8th
7:00pm-9:00pm
Green Center Petroleum Hall
Synopsis:
Join us for a journey above and below the ice as internationallyacclaimed photographer, filmmaker, and author John Weller tells the inspiring story of the Ross Sea. Working out of his garage in Boulder, Weller started what would become a global coalition of organizations, scientists, diplomats and more than a million people, and eventually entrained the attention of world leaders from the White House to the Kremlin.
Weller will share his world-renowned images from 4 trips to the Ross Sea, including 3 months diving under the ice with the National Science Foundation. And most importantly, John will share how it was at the end – inside the international meeting in a stone fortress in the center of Hobart, Tasmania, when all these countries reached agreement in one of the most profound international collaborations of our times.
About the Speaker:
John Weller was named a SeaWeb Fellow in 2005, a Pew Fellow in Marine Conservation in 2009, and has served as a Safina Center Fellow since 2014. In addition to his foundational work in the Ross Sea, Weller has collaborated with Emmy Award-winning cinematographer Shawn Heinrichs and an array of environmental organizations to conceive, create and deliver national-level media campaigns in support of marine conservation initiatives in many other crucially important regions of the world's ocean. These campaigns have resulted in new shark and manta ray sanctuaries in the Bahamas and Micronesia, new marine protected areas in Indonesia, and new international law protecting manta rays. He continues to work in defense of the ocean alongside a team of close collaborators and his wife Cassandra Brooks.
---
"Science, Patents, and Liberty! How the United States' Constitution Contributes to Liberty and Prosperity on Campus and Far Beyond"
Rich Levine - Constitution Day lecture
Friday, September 16th
10:00am-11:00am
Student Center Ballroom D
Synopsis:
From the inception of our nation, our ideas enjoy protection under the United States Constitution, through the so-called "copyright clause" which covers both copyright and patent. What is the connection between copyrights and patents, and our fundamental liberties? Why did the founding fathers of this nation enshrine these rights within the original Constitution? The answer to these questions are fascinating, and reveal some of the key, cornerstone features of our national economic engine and crucial building blocks of our national character whereby all citizens, and indeed international authors and inventors contribute to the development of the useful arts and sciences. Colorado School of Mines professors hold an esteemed place in this rich history of inventors. This lecture will elaborate not only on the historical and philosophical origins of copyright and patent protection in the United States, but will highlight the fabulous work and contributions of several Mines' professors. Inventors and authors, come learn a little bit more about how you and your contributions are valued cornerstones in a vibrant American democracy, placing these freedoms on par with the First Amendment and our most cherished freedoms. Celebrate this Constitution Day as a community of learners dedicated to earth, energy and environment, in an environment of scholars.
About the Speaker:
Rich Levine is an adjunct professor in the Liberal Arts and International Studies division at Colorado School of Mines. Professor Levine earned his Juris Doctorate in Law from the University of California at Berkeley in 1986, and has taught extensively at Mines and the University of Denver over the past decade. Prior to completing his JD at Berkeley, Rich earned a Bachelor of Arts with distinction in Law and Society, as well as a BA in Sociology at the University of California, Santa Barbara. Mr. Levine also completed post-graduate coursework in comparative religious studies in Jerusalem, Israel at Tannebaum College. In addition to Constitutional Law, Professor Levine has contributed to the fields of International Human Rights (freedom of conscience and religious belief) and economics (particularly the study of the economics of justice). Professor Levine serves as a member of the Board of Directors of Special Olympics, Colorado, and resides in Evergreen with his wife, Kim, a public school teacher. Rich Levine maintains a private law practice as a trial attorney licensed in Colorado, California and Washington, DC.
"Curiosity": A Talk with Science and Nature Writer Kimberley Todd
Kimberley Todd
Thursday, September 22nd
6:00pm-7:00pm
Hill Hall 202
About the Speaker:
Kimberley Todd writes about science and the natural world, focusing on the ways in which the stories we tell about animals and places have on-the-ground implications. Todd has explored the natural and cultural history of the house sparrow (Sparrow, 2012), the story of non-native species in the U.S. (Tinkering with Eden, a Natural History of Exotics in America, 2001), and the fascinating life story of a pioneering 17th century woman explorer/naturalist who studied insects in South America (Chrysalis, Maria Sibylla Merian and the Secrets of Metamorphosis (2007). Todd has also published numerous articles in well-respected journals. She currently teaches literary nonfiction in the MFA program at the University of Minnesota, Minneapolis and is a senior fellow with the Environmental Leadership Program.
"The Year Without a Summer, 1816": Tambora, the Eruption That Changed the World
Dr. Gillen D'arcy Wood
Monday, October 10th
7:00pm-8:00pm
Berthoud Hall 241
Synopsis:
When Indonesia's Mount Tambora erupted in 1815, it unleashed the most destructive wave of extreme weather the world has witnessed in thousands of years. The volcano's massive sulfate dust cloud enveloped the Earth, cooling temperatures and disrupting major weather systems for more than three years. Communities worldwide endured famine, disease, and civil unrest on a catastrophic scale. In this talk, Dr. Wood brings the history of this planetary emergency to life, shedding light on the fragile interdependence of climate and human societies and offering a cautionary tale about the potential tragic impacts of drastic climate change in our own century.
About the Speaker:
Gillen D'Arcy Wood is a professor of English at the University of Illinois, Urbana-Champaign, where he directs the Sustainability Studies Initiative in the Humanities.
"The Post - ISIS Middle East"
Hassan Hassan
Wednesday, October 26th
7:00pm-9:00pm
Green Center Petroleum Hall
Synopsis:
Join us for a talk by Hassan Hassan on the incremental defeat and territorial retreat of ISIS in Syria and Iraq.
About the Speaker:
Hassan Hassan is a journalist and author focusing on Syria, Iraq, and the Gulf States. He is a resident fellow at The Tahrir Institute for Middle East Policy and has authored, with Michael Weiss, the New York Times bestseller ISIS: Inside the Army of Terror. Mr. Hassan's writing has appeared in the Guardian, Foreign Policy, Foreign Affairs, and the New York Times, among others. Mr. Hassan received an M.A. in international relations from the University of Nottingham.
"The Harmonious Scientific Career"
Dr. Roel Snieder
Wednesday, November 2nd
Buffet Lunch begins at 11:45 am
Presentation is from 12:15-1:00 pm
Student Center Ballroom A
RSVP: By Thursday, October 27th at the link below.
Go to this website for more information: https://orgsync.com/84346/forms/226246

Synopsis:
The professional and personal demands and expectations that a scientist or engineer operates under can be considerable. Apart from these pressures, we have different roles to play in different aspects of our professional and personal lives. When not handled properly, this can lead to feelings of stress, demotivation, and burn-out. In this workshop, we will explore strategies, as described in the book, The Joy of Science (https://inside.mines.edu/~rsnieder/Joy_of_Science.html), to harmonize the different aspects of the life of the modern scientist or engineer.
"Salam Neighbor: Film Screening and Panel Discussion on the Syrian Refugee Crisis"
Thursday, November 10th
7:00pm-9:30pm
Student Center Ballroom BC
Our final Hennebach event of the semester will take place on Thursday, November 10. This is a special event: a documentary film screening and panel discussion on the humanitarian dimensions of the Syrian refugee crisis. Panel discussants will include the film's producer, Salam Darwaza, and Joe Wismann-Horther, from the Colorado Refugee Services Program.
Panel discussants:
Salam Darwaza, Producer
Joe Wismann-Horther, from the Colorado Refugee Services Program
Synopsis:
Two Americans head to the edge of war, just seven miles from the Syrian border, to live among 85,000 uprooted refugees in Jordan's Za'atari camp. As the first filmmakers allowed by the United Nations to register and set-up a tent inside a refugee camp, Zach and Chris plunge into the heart of the world's most pressing humanitarian crisis.

From meeting Um Ali, a woman struggling to overcome personal loss and cultural barriers, to the street smart, 10-year-old Raouf, whose trauma hides just beneath his ever present smile, Zach and Chris uncover inspiring stories of individuals rallying, against all odds, to rebuild their lives and those of their neighbors.
---
"Energy in Literature: Essays on Energy and Its Social and Environmental Implications in Twentieth and Twenty-First Century Literary Texts"
Dr. Paula Farca
Thursday, April 14th
5:00pm-6:30pm
Marquez Hall 126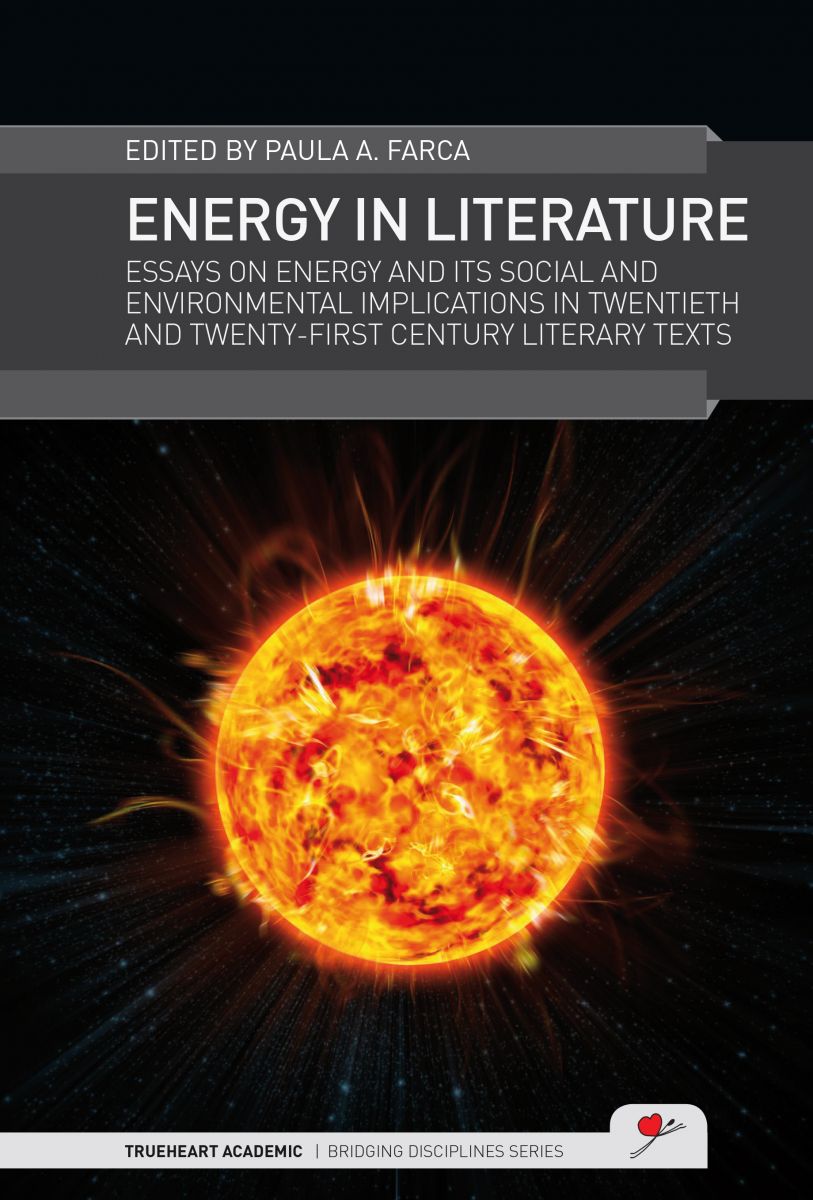 How are sources of energy presented in modern and contemporary literary texts? Energy in Literature shows the connections in twentieth and twenty-first century literary texts between energy, society, and environment. The edited volume includes a substantial introduction, poems on energy, eighteen critical essays from international contributors, and a photo essay. The book explores how authors of recent world literature present energy sources ranging from coal and oil to solar, wind, nuclear, and hydropower, and how these sources affect local and global communities. The anthology focuses on the impact energy sources have on individuals and the environment, and on salient themes including pollution; disposal of waste; industrial landscapes; sustainability; resource extraction and its economic, social, and developmental consequences; the intertwining between nature and culture; and gender and ethnic identity constructions.
Paula Anca Farca is a Teaching Associate Professor in the Division of Liberal Arts and International Studies at Colorado School of Mines, where she teaches literature, writing, and academic publishing. Her main research focuses on contemporary, postcolonial, and Indigenous literature. Along with numerous published critical essays and book chapters, Paula has published Identity in Place: Contemporary Indigenous Fiction by Women Writers in the United States, Canada, Australia, and New Zealand (2011), co-authored a textbook, A Student's Guide to Nature and Human Values (2010 and 2012), and coedited Speculations: An Anthology for Reading, Writing, and Research (2006).
Teaching Professor Toni Lefton contributed three poems to the book: "Winter Tulip," "Top Kill," and "Make Believe" and Teaching Associate Professor Sarah Hitt wrote a chapter entitled "Mining in Contemporary Indigenous Literature."
McBride Student Richard Sebastian Coleman will play some classic pieces together with his quartet.
---
"Geopolitics and the Making of the Oil Curse"
Dr. Cullen Hendrix
Wednesday, April 13th
5:00pm-7:00pm
Marquez Hall 126
Abstract: Does oil hinder democracy? Most research on the subject has focused on domestic effects of oil wealth on political institutions, with international dynamics only affecting domestic politics through ownership structure and market prices. In new research, Dr. Hendrix argues the end of the Cold War, when the United States and the Soviet Union reduced support for non-oil rich authoritarian regimes in the developing world, amplified the domestic effects of oil wealth on democracy. Using case studies and statistical modeling, he finds the oil curse is a function not just of international market conditions but geopolitical dynamics as well.
Dr. Hendrix is Associate Professor at the Sié Chéou-Kang Center for International Security and Diplomacy at the Korbel School of International Studies, University of Denver, and Nonresident Senior Fellow at the Peterson Institute for International Economics. At the Korbel School, he directs the Environment, Food and Conflict (ENFOCO) Lab, which leverages collaborations between physical and social scientists and policymakers to produce scholarship and analysis on issues at the intersection of the environment, food security, and conflict. His research has been supported by the National Science Foundation's Coupled Natural and Human Systems program and the US Department of Defense Minerva Initiative, as well as the Carnegie Corporation and the Smith-Richardson Foundation. He holds a PhD and MA from the University of California, San Diego, where he was a fellow of the Institute on Global Conflict and Cooperation, and a BA from Kalamazoo College. His first book,Confronting the Curse: The Economics and Geopolitics of Natural Resource Governance (with Marcus Noland), was published in 2014.
/UserFiles/File/LAIS/Geopolitics%20and%20the%20Making%20of%20the%20Oil%20Curse%20Hennbach%20Flyer%204-13.pdf
---
"Syria: From Revolution to War"
Monday, April 4th from 6-8 pm in Student Center Ballroom B
Please join us for an evening of conversation on The Syrian War with Robin Yassin-Kassab and Leila Al-Shami. They recently co-authored Burning Country: Syrians in Revolution and War (Pluto Press, 2016).
Robin Yassin-Kassab is the author of the novel The Road from Damascus. He co-edits www.pulsemedia.org and blogs at www.qunfuz.com.
Leila Al-Shami was a founding member of Tahrir-ICN a network connecting anti-authoritarian struggles across the Middle East, North Africa and Europe.
---
"The Global Refugee Crisis: Unrest in the Middle East & Its Implications for the US"
Friday, March 25th from 4-6 pm in Berthoud Hall 241
Presentations and discussion will focus on:
People in Flight: A Global Perspective, Domestic Implications
War, Refugees, and the Humanitarian Catastrophe in Syria
Human Rights in Syria
Kelly M. Greenhill is a professor at Tufts University and a research fellow at Harvard University. Greenhill is author of Weapons of Mass Migration: Forced Displacement, Coercion and Foreign Policy, which won the 2011 International Studies Association's Best Book of the Year Award; and co-author and co-editor of Sex, Drugs and Body Counts: The Politics of Numbers in Global Crime and Conflict and The Use of Force: Military Power and International Politics. Greenhill's research has also appeared in a variety of journals, national and international media outlets, and briefs prepared for the U.S. Supreme Court and other organs and agencies of the U.S. government. She is currently finishing a new book, a cross-national study that explores why, when, and under what conditions, contested sources of political information—such as rumors, conspiracy theories, myths and propaganda—materially influence the development and conduct of states' foreign and defense policy. Outside of academia, Greenhill has served as a consultant to the Ford Foundation, the World Bank and to the United Nations High Commissioner for Refugees, as a defense program analyst for the U.S. Department of Defense, and as an economic policy intern in the Office of then Senator John F. Kerry. She also serves as Associate Editor of the journal International Security. Greenhill holds an S.M. and a Ph.D. from M.I.T., a C.S.S. from Harvard, and a B.A. from the University of California at Berkeley.
Samer Abboud is an Associate Professor of International Studies at Arcadia University and a Senior non-resident Fellow at the Center for Syrians Studies at the University of St. Andrew's in Scotland. In 2013, Samer was a Fellow at the Institute of International and Security Affairs in Berlin and a Visiting Scholar at Carnegie's Middle East Center in Beirut. Samer is the author of the recently published book on the Syrian conflict entitled Syria (Polity, 2015) and has published extensively in academic and popular venues on contemporary Syria and the conflict. His current research is interested in the phenomenon of capital flight during the Syrian conflict.
Quitaiba Idlbi is an associate producer and translator for Red Lines. A native of Damascus, Qutaiba became actively involved in human rights and democracy activism with the start of the revolution in March 2011. Following detainment and torture at the hands of internal security forces in Syria, he was forced to leave the country and continue his efforts from abroad. Qutaiba currently works with the Syrian National Council and the Syrian National Coalition (Etilaf) as a resident and research associate. He is the co-founder and director of operations with People Demand Change.
---
"War, Heroes, Poems: a reading and discussion with Seth Brady Tucker"
Dr. Seth Brady Tucker
Thursday, February 25th from 5-6 pm in Marquez Hall 126
Seth Tucker is an award-winning teacher originally from Lander, Wyoming. He has led poetry, fiction, and creative nonfiction workshops and literature classes for graduate and undergraduate students alike over a career spanning eleven years, and has taught at the Colorado School of Mines for over three years. Seth is also an award-winning poet and fiction writer, and his first book won the 2011 Elixir Press Editor's Poetry Prize (Mormon Boy, 2012), and was a finalist for the 2013 Colorado Book Award. His second book won the Gival Press Poetry Award (We Deserve the Gods We Ask For, 2014) and went on to win the Eric Hoffer Book Award in 2015. Seth is also the founder and co-director of the Seaside Writers' Conference (which takes place annually in May), and volunteers his time teaching veterans and veteran caretakers through the Wounded Warrior Project, and inmates through the prison literacy program, Words Beyond Bars. Seth has been an editor for a number of different literary journals, and is currently the Senior Prose Editor at the Tupelo Quarterly Review.
---
"Liberating Visions Part II: Washington, DuBois, X, and King in the 21st Century"

Dr. Derrick Hudson
Discussion with Dr. Winston A. Grady-Willis, Rev. Dr. H. Malcom Newton and Dr. Derrick Hudson
Monday , February 22nd from 6-7:30 pm in Student Center Ballroom C
---
"The Liberating Visions of Washington and DuBois / X and King"
Dr. Derrick Hudson
Thursday , February 8th from 5-6 pm in Alderson Hall 162
---
"Why the Persistent Under-representation?: African Americans in the Engineering Profession in the United States"
Dr. Derrick Hudson
Thursday, February 4th from 5-6 pm in Marquez Hall 126
This talk is the inaugural lecture in the Hennebach HASS author series. Throughout the semester, HASS faculty who have published books since the spring/summer of 2014 will be presenting their work to the campus community.
Dr. Hudson is a Teaching Associate Professor of International Relations in the Division of Liberal Arts and International Studies, where he teaches undergraduate courses in International Relations, African History and in the Masters of International Political Economy of Resources (MIPER) program. He earned his PhD in International Relations from the Josef Korbel School of International Studies at the University of Denver. He specializes in religion and politics in Africa, with particular expertise on the role of prophetic Christianity as an agent for social change in selected historically deeply divided societies. His teaching interests also includes the role of truth commissions as societies are in transition from authoritarian to democratic rule and will teach a course on power and leadership in the McBride Honors Program at CSM. Prior to coming to Mines, Dr. Hudson was an Assistant Professor in the Department of African and African American Studies at Metropolitan State College of Denver in which he gained valuable experience in teaching African American Studies, Social Movements, and Kenyan Politics and Culture
---
---
Monday, December 7th
China's Political Future:
Meritocracy, Democracy, or Both?
Public Lecture
12:00 Noon in Coolbaugh 209
—
Round Table Discussion
with James Jesudason and Elizabeth Van Wie Davis
4:00 p.m. in Ballroom D, Student Center
Light Refreshments provided
Westerners divide the political world into "good" democracies and "bad" authoritarian regimes. But the Chinese model does not fit in either category. China has evolved a political system that can best be described as "political meritocracy." Drawing on his 2015 book The China Model, Daniel A. Bell will discuss the ideals and the reality of this unique political system.
For more inforjmation: /UserFiles/File/LAIS/Daniel%20Bell%20Final%20Flyer.pdf
---
Meeting Minds; Encountering Worlds: Sciences and Other Expertises on the North Slope of Alaska
Monday, November 16th 5:00-6:30 pm, MZ126
Meeting Minds; Encountering Worlds: Sciences and Other Expertises on the North Slope of Alaska
Speaker: Barbara Bodenhorn
For more information:
/UserFiles/File/LAIS/Hennebach%20Seminar%20Bodenhorn_pdf%E2%80%9D(1).pdf
---
Wednesday, October 21st 6:00pm
The Shultz Family Leadership in Humanitarian Engineering Speaker Series
presents Dr. Tyler Priest,
Associate Professor of History and Geography
University of Iowa (http://typriest.com/)
Title of the talk:
Oil on the Edge: The Interrelated Histories of Petroleum in the Alaskan Arctic and the Gulf of Mexico
Please join us Wednesday October 21, 2015 at 6 pm, BBW280
This event is co-sponsored with Hennebach Program in the Humanities, the McBride Honors Program and Mines Without Border
Link to flyer with more details.
---
---
"The ISIS Crisis and the Future of Syria: Options for US Policy" Panel
Wednesday, April 8th from 5-7:00pm in Ballroom C
Presented by Hussein Amery
Panel Participants:
Ambassador Frederic C. Hof
"Chaos in Syria: Prospects for a Political-Diplomatic Settlement."
Bio:
"Ambassador Frederic C. Hof is a senior fellow in the Rafik Hariri Center for the Middle East. He came to the Atlantic Council after a career as a US Army officer, a private sector CEO, and a Department of State diplomat. He is a Vietnam veteran and much of his professional life has centered on the Middle East. As a military officer he served on the commission that investigated the 1983 bombing of the US Marine Corps headquarters at Beirut International Airport and drafted key parts of the commission's report. While in the private sector he took a leave of absence in 2001 to serve as chief of staff of the Sharm el-Sheikh Fact Finding Commission, headed by former Senate Majority Leader George Mitchell, and was the principal drafter of the Commission's report. In the Department of State from 2009 to 2012 he took the lead in an effort to mediate Syrian-Israeli peace and was given the rank of ambassador in his capacity as special advisor to the secretary of state for transition in Syria. Ambassador Hof also oversaw efforts to reconcile conflicting Israeli and Lebanese exclusive economic zone claims. He is a graduate of the Georgetown University School of Foreign Service and the Naval Postgraduate School. Ambassador Hof is the author of two works on Middle Eastern boundary issues and numerous articles on Middle Eastern political, security, boundary and water issues. Among his military decorations is the Purple Heart."
Nader Hashemi
"All Roads Lead to Damascus: Why the Future of ISIS and the Future of Syria are Intertwined"
Bio:
Nader Hashemi is the Director of the Center for Middle East Studies and an Associate Professor of Middle East and Islamic Politics at the Josef Korbel School of International Studies at the University of Denver. He obtained his doctorate from the Department of Political Science at the University of Toronto and previously was an Andrew W. Mellon Postdoctoral Fellow at Northwestern University and a Visiting Assistant Professor at the UCLA Global Institute. He is the author of Islam, Secularism and Liberal Democracy: Toward a Democratic Theory for Muslim Societies (Oxford University Press, 2009) and co-editor of The People Reloaded: The Green Movement and the Struggle for Iran's Future (Melville House, 2011) and The Syria Dilemma (MIT Press, 2013).
Danny Postel
(panel discussant)
Bio:
Danny Postel is Associate Director of the Center for Middle East Studies at the University of Denver. His books include The Syria Dilemma (2013) and The People Reloaded: The Green Movement and the Struggle for Iran's Future (2011). He is a co-editor of PULSE and a regular contributor to the Huffington Post and Critical Inquiry. His writings have appeared in The American Prospect, Boston Review, the Cairo Review of Global Affairs, Dissent, The Guardian, Middle East Policy, The Nation, the New York Times, openDemocracy, Salon, and the Washington Post.
Rafif Jouejati
"Freedom and the Voice of the Syrian People."
Bio:
Rafif Jouejati is a management consultant by profession, but left her career to join the Syrian revolution in April 2011. She founded and is the director of the Foundation to Restore Equality and Education in Syria (FREE-Syria), and serves as spokesperson and executive committee member of the Local Coordination Committees in Syria. She also served as a spokesperson for the Syrian Opposition Coalition during the Geneva II talks. Rafif is also a member of the board of directors of The Day After Association, which developed a transitional framework for Syria in the post-Assad phase. She recently completed the Freedom Charter project, in which activists surveyed more than 50,000 Syrians to answer the fundamental question, "What do Syrians Want?"
Hennebach Lecture Series ISIS Panel Flyer
---
"America's Darwin: Darwinian Theory and U.S. Literary Culture"--Panel Discussion
4:00-5:00 pm, Tuesday, March 24, 2015
Marquez Hall 126
Presented by Tina Gianquitto
Moderated by Dr. John Spear
Panel Discussion with Authors
Three authors from the recently published collection of essays,
America's Darwin, will participate in a discussion about the
impact of Darwinian evolutionary theory in the U.S.
America's Darwin features 15 essays from authors working in
fields as diverse as anthropology, literature, biology, history of
science, geology, and entomology. Collectively, the authors of
the collection make the compelling case that the interpretation
of evolutionary theory in the U.S. has always shifted in relation
to prevailing cultural anxieties.
Invited Panelists
Dr. Lilian Carswell holds a Ph.D. in literature from Columbia University and an M.S. in Marine
Mammal Biology from the University of California, Santa Cruz. While completing her doctoral
dissertation, she began working as a biologist for the U.S. Fish and Wildlife Service. She currently
serves as a Southern Sea Otter Recovery and Marine Conservation Coordinator for the USFWS.

Dr. Lydia Fisher is a Visiting Assistant Professor of English at Portland State University. She is
completing a book project, Domesticating the Nation: Science and Home Culture in Nineteenth-
Century America. She is a co-editor of America's Darwin.
Dr. Tina Gianquitto is Associate Professor and Interim Division Director of HASS. She works
primarily at the intersections of literature and science and has published "Good Observers of
Nature": American Women and the Scientific Study of the Natural World, 1820-1885, as well as
articles on women and evolutionary threory. She is a co-editor of America's Darwin
---
Jon A. Leydens
4:00-5:00 pm, Tuesday, February 24, 2015
Marquez Hall 126